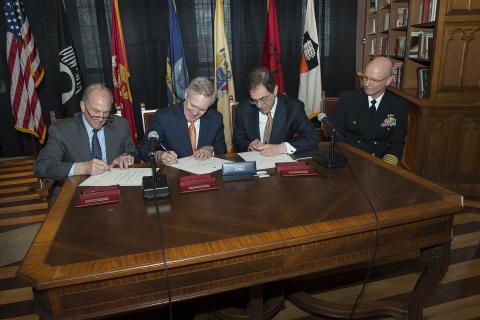 Photo: PRINCETON, N.J. (April 15, 2014) Secretary of the Navy (SECNAV) Ray Mabus, second from left, President of Rutgers University Robert Barchi, left, and President of Princeton University Christopher Eisgruber sign an agreement bringing Navy ROTC back to Princeton University, as Capt. Philip Roos, commanding officer of Rutgers Navy ROTC looks on. (U.S. Navy photo by Mass Communication Specialist 1st Class Arif Patani/Released)
---
Rutgers University
In September 2012, Naval Reserve Officers Training Corps (NROTC) Unit Rutgers University and the associated Department of Naval Science was established at Rutgers, The State University of New Jersey after Secretary of the Navy Ray Mabus signed an agreement with Rutgers President Richard L. McCormick in New Brunswick, NJ.
It marked the first official training program for aspiring Navy and Marine Corps officer candidates in New Jersey since the last NROTC unit was folded in 1972. 
According to Rutgers University, "Rutgers' Board of Governors set the stage for the NROTC program in October 2011 when it approved establishment of an academic Department of Naval Science staffed by naval personnel and offering a four-year course of naval science instruction beginning this fall. The new academic department was a provision set forth by the secretary for approval of Rutgers' application to bring the NROTC to New Brunswick."
Secretary Mabus noted Rutgers' history of excellence in academics and diversity, which was an essential consideration in bringing NROTC back to New Jersey.
"I am pleased we are bringing professional military education and training to diverse, world-class educational environments like Rutgers," said Secretary Mabus. "While this is a great opportunity for the Navy, Rutgers faculty, students and surrounding communities will benefit from the unique opportunity to know firsthand the pride, professionalism, and versatility of our Sailors and Marines."
Rutgers President Richard McCormick shared Secretary Mabus' enthusiasm in bringing NROTC to Rutgers' flagship university in New Brunswick.
"Rutgers is delighted to start the Naval Science program on the New Brunswick Campus and honored to offer a Naval ROTC experience to New Jersey students," said McCormick. "The program will provide outstanding scholarship and career opportunities for those who enroll and prepare selected men and women for commissioned service in the United States Navy or Marine Corps."
---
Princeton University
In April 2014, Secretary Mabus and Princeton University President Christopher Eisgruber signed an agreement to formalize the re-establishment of NROTC at Princeton for the first time in three decades. An NROTC program was previously hosted at the university from 1945 to 1971.
"We are very pleased to be able to provide our students with the opportunity to participate in Naval ROTC," said Eisgruber. "I have heard from many alumni about how important this program was in their lives. I am glad that this generation of students will have access to the kinds of training that the program provides and to the kinds of leadership positions for which it will prepare them." 
Princeton University, located in Princeton, NJ, would act as a crosstown affiliate to the host NROTC program at Rutgers University in New Brunswick. This meant that Navy and Marine Corps staff from Rutgers would be tasked with teaching, training, and mentoring Princeton midshipmen both at Rutgers and Princeton University.
"The renewal of this relationship on campus will serve to bring so many very talented officers into both the Navy and Marine Corps," said Mabus, "and the presence of NROTC will enrich and strengthen both our military and the educational experience of all the students at Princeton."
In September 2014, the freshman class at NROTC Unit Rutgers University welcomed two Princeton midshipmen during a ceremony at Kirkpatrick Chapel in New Brunswick, marking the official return of NROTC to Princeton University for the first time in 42 years.